Welsh rarebit pastries are perfect bite sized treats for the big game! Rich flavour and melting flaky pastry add up to the best party canapés this side of Wales!
It's been a quiet few weeks in Why World as my work has got ahead of me a bit, and I'm looking to make some changes behind the scenes. But the big bash between England and Wales in the Euro Championships today made these little Welsh rarebit pastries too good to keep to myself!
If you've never tried Welsh rarebit before, it's basically epic cheese on toast. I mean, like cheese on toast even needed to be more epic, huh?
Melted cheddar cheese on toast is something of a saucy perfection in my books. It's what the word ooze was invented for! But Mrs Why thinks I'm weird for also needing a slice of buttered toast with cold, unmelted cheese on as well when I have cheese on toast. But it needs to be a slice of each! With slightly too much butter! That's not weird, right?
I've added gruyère to this cheese mix to give it some nuttiness, a bit more depth, and to give the sauce a little more elasticity. And because gruyère is awesome. The pastry is store bought for two reasons. The first is that store bought is perfectly decent, the second is that making your own turns this from 30 minutes to a few days work!
Important tip: When making these, the only measurements you really need to adhere to is flour + butter for the roux, and the pastry so you can work out quantities. Use the other measurements just as a guide, and taste frequently along the way.
For the milk, keep adding very slowly until you have a thick but still slightly fluid sauce. Be very conservative with the mustard, Worcestershire sauce, and sherry – you can add but you can't take away! Don't be shy with the cheese, either!
Welsh Rarebit Pastries
Ingredients
25

g

Butter

unsalted

25

g

Flour

plain/all purpose

1

pint

Milk - warmed through

full fat preferably

75

g

Cheddar cheese

grated

75

g

Gruyere cheese

grated

Dash Dry Sherry

Dash Worcestershire sauce

1

tsp

Dijon mustard

2

Egg yolks

375

g

Puff pastry

ready-rolled

Milk

for glazing
Instructions
Preheat the oven to 400/200/Gas 6

Heat a saucepan over a medium heat until hot, then add the butter

When the butter is foaming but not brown, add the flour and stir constantly for 3-4 minutes to make a roux. Lower the heat if the colour begins to darken.

Drip by drip, add the milk to the roux. Make sure each drip of milk is fully incorporated before adding the next. Continue until you have a thick but still fluid sauce - you may not need to use all the milk

Add most of the grated cheese, and stir until melted in

Add the sherry, Worcestershire sauce, and mustard. Stir to combine, season with salt and white pepper, and taste.

If needed, add more cheese, sherry, Worcestershire sauce, or mustard to your tastes. It should be a rich cheesy sauce with a gentle hint of the other ingredients (if the sherry or Worcestershire sauce are a little harsh, don't worry - they will mellow during the cooking process)

Beat in the two egg yolks. Cook for a few more minutes, stirring frequently. If the sauce starts to get a little too thick, add a dash more milk

If you are just making Welsh Rarebit, stop here and grill this sauce on some extra thick toasted bread

Line a large baking tray with baking paper. Roll out the puff pastry and cut into large thumb sized rectangles (you will probably need to do two batches). Leave a gap of 1cm between each rectangle so they can puff/rise

Prick each pastry rectangle around the centre to stop it rising so much and to stick together better when cooked

Brush each pastry rectangle with a little milk, then add the cheese mix along the top of each pastry rectangle

Bake for 20 minutes until the pastry has risen and is golden

Best enjoyed hot, but can be served cold (still delightful, but they lose a little of the cheesy edge)
These Why's are being expanded upon for the Why section, but I was keen to get this recipe out today so will return with more info!
Why does a roux thicken sauces/liquids? Flour is a starch. When a starch is hydrated (mixed with water) then gelatinised (heated so it bonds together) it forms a tree-like molecular structure that traps the water within the branches, creating the thick(er) sauce.
Why do we cook the flour with the butter? The cooking process is simply to remove the harsh flour flavour. We mix the flour with the butter to disperse the flour and stop it clumping when we add the liquid (milk) so it can gelatinise equally and form a sauce. In theory, if you had a flavourless flour, or wanted the flour flavour to remain, you can omit this heating stage altogether. Just mixing the flour and fat together fully, then heat with the liquid to gelatinise.
Why does puff pastry rise? Lots of layers of fat between lots of layers of pastry is the secret. As the pastry cooks, steam and heat passes through it. While on the way up, it takes the pastry with it and cooks it so the flour gelatinises to create the hardened/flaky cooked pastry we are familiar with. However as there are so many layers of butter, these layers melt before the pastry has fully gelatinised, creating an air pocket. The pastry on top then gelatinises, and the air pocket remains, all nice and puffy!
Why use the gruyere, mustard, sherry, or Worcestershire sauce? Flavours and seasoning! You can make the most basic of cheese sauces if you wish, or feel free to mix about with other additions if you fancy. Ale is more often used instead of sherry; dried cayenne pepper gives the sauce a little zing; and there is a plethora of cheeses you can experiment with. Don't be shy of the mustard or the Worcestershire sauce – neither will be discernable on their own, and they give a delicious depth of flavour.
Find this recipe and a whole heap of others at: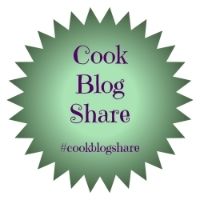 What's Cookin' Wednesday – Buns In My Oven
 Fiesta Friday with Lindy @ Love in the Kitchen and Liz @ spades, spatulas & spoons
And the Sugar And Spice Link Party