Haddock fish bites are little mouthfuls of fishcake deliciousness that you can make in a nip. They're even a treat cold the next day!
We weren't Catholic in my house (my folks were devout C of E, mind), but fish on Friday's was definitely a thing. Usually this was cheap naff fish fingers and chips, or some oven bake soggy-batter cod or haddock affair. It actually put me off fish for decades, until I learnt how blooming awesome proper fish cooking was. Since then, I've been super keen to make my own fishy incarnations for Friday supper. These haddock fish bites are one of my steps along the way! style="text-align: center;">Jump to recipe
Does anyone else follow the fish on Friday ritual? I remember chuckling with my brothers and sisters about how firm my parents were about it (we HAD to have fish without question!) despite not being Catholic in the slightest!
I love my mum to bits, but her cooking exploits into the world of the sea were very limited at best. Some things she doesn't eat so she never cooked them (anything she calls 'spicy', or 'weird' things like squid for instance), and others I don't think she was confident at cooking (pan fried sea bass, whole snapper). I was a pretty fussy eater when I was a nipper anyway, and would have recoiled in fear at the thought of deshelling a prawn or eating sushi!
And there is a silver lining to my fishy abstinence – I think my love of food stems from my mum's restricted culinary provisions. I didn't even have pasta as a kid, so once I'd found the world of food, I couldn't stop myself. And I still haven't! 😛
This recipe creates about 20 golf ball sized haddock fish bites, which is plenty enough for two adults and two children, probably with some to spare. You can half the recipe for smaller portions, but I actually highly recommend saving the leftovers for a cold lunch the next day (or hot, but the breadcrumbs won't be crisp). I prefer them cold, but Mrs Why thinks I'm weird as I'd even eat roast dinner cold! (Seriously – it's nice! :-P)
Haddock Fish Bites
Haddock fish bites are little mouthfuls of fishcake deliciousness that you can make in a nip. They're even a treat cold the next day!
Servings
20
golf ball sized bites
Ingredients
For the filling:
350

g

Haddock fillets

1

Lemon

thinly sliced

700

g

Potatoes

peeled and diced for boiling (approx. 6 potatoes)

2

knobs Unsalted butter

1

Egg

beaten

1

Spring onion

finely chopped

2

Tbsp

of parsley

75

g

Cheddar cheese

grated

40

g

Breadcrumbs

Salt and white pepper to taste

150

g

plain flour

2 large eggs beaten, 200g breadcrumbs
For the breadcrumbing:
150

g

Plain flour

2

Large eggs

beaten

200

g

Breadcrumbs
Instructions
Surround the haddock fillets with lemon slices in a steamer, season with salt, and steam over simmering water for approx. 10-12 minutes until cooked and flaky. Remove fillets from steamer, discard lemon, and allow to cool

If your fillets have skin on, remove and discard

Meanwhile, boil the potatoes in salted water until very tender, approx. 15-18 minutes. Pass through a potato ricer twice, then mix with the remaining ingredients and cooled fish until combined. Add more breadcrumbs if the mixture is too wet

Heat a deep fat fryer to 190C/375F

Set up three bowls, one containing about 1/3 of the flour, the next 1/3 of the egg, and the last with 1/3 of the breadcrumbs. Season the egg yolk with a little salt

Flour your hands, and roll out a golf ball sized portion of the filling mixture. Then place it in the flour to fully coat, then the egg, then finish in the breadcrumbs so fully coated. Continue for the rest of the filling mixture, adding more flour, egg or breadcrumbs as needed

Deep fry the balls in batches until golden and crispy, approx. 3-5 minutes. Drain on kitchen roll and serve
Onwards and Why wards!
Why all the faff with flour and egg when breadcrumbing the bites? How the breadcrumbing process works
Why are you adding egg to the mash potato? And the breadcrumbs? Why we bind with eggs and breadcrumbs.
Why do we steam the fish? Preference, plus it doesn't affect the flavour of the fish. Frying would change the texture and add flavour, and baking is a bit dry and more difficult to monitor. Select as you prefer, however!
Why the parsley? Can we use other herbs? Spices? Preference choice again. Parsley goes great with the cheese, potato, hint of lemon and white fish. It's kind of a subtle earthy, easy going herb that brings a fresh taste and vibrancy to the mix.
Other herbs like coriander, mint, basil, etc. are much more pungent and would need punchier spices to stand up to their flavor. They may even need a stronger fish taste so the star of the show isn't upstaged. Smoked haddock with saffron and cumin maybe? Salmon and dill is tried and tested. Tuna dusted with toasted and ground cumin and coriander seed, with fresh coriander and pea? Mmmm….
No post would be finished without some link parties to share on!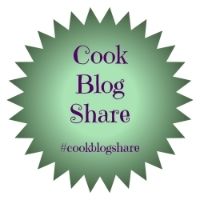 With Sneaky Veg
The Sugar and Spice Link Party
Fiesta Friday with Loretta @ Safari of the Mind and Linda @ Fabulous Fare Sisters
And Saucy Saturdays with Swayam – from La Petit Chef,  Christine – from Mid-Life Croissant, Jennifer – from Take Two Tapas, and Dini – The Flavor Bender
With Marathons & Motivation + Ilkas Blog
And What's For Dinner @ The Lazy Gastronome