These meatballs have a deep herb and lamb flavour, bursting with a vibrant Moroccan spiced sauce, and finished with a killer baked egg. These Moroccan meatballs with baked eggs will be a staple in anyone's diet after just one bite!
Moroccan meatballs with baked eggs came about, as most of my food does, by an accidental series of events. The key factor is that we love meatballs, but Emma (Mrs Why) really doesn't care for spaghetti, and I often get quite bored of pasta as well. So we looked for different ways of bringing meatballs to the plate.
We did a stew that was alright, but the meatballs weren't as good as regular lamb meat, so there was little point pursuing this further. We did meatballs in pitta bread, which was good but was a total rip-off of Subway's meatball marinara (which, being honest, was exactly what we were aiming for).
Totally unrelated to the meatballs affair, I cooked up a baked egg dish with some description of tomato sauce. It was really tasty, but certainly wasn't a complete dish. Roll on a few weeks, and I totally forget what I did with the baked eggs – I just remember that they were lovely. So for some reason unbeknown to me, I decided to meatball the tomato sauce up. I have no idea how the Moroccan spices even got into the mix – most likely, I was going through a Moroccan stage and using Ras-El-Hanout in a lot of tagines, and thought it would be great.
And, like… here we are! Moroccan meatballs with baked eggs were born! I make a point about paying attention to the provenance of my cooking – the thought process and journey are really important in understanding my decisions and choices.
For instance –  baking eggs on top of the meatballs was to create more of a complete dish. Progressing this idea further would be adding extra veg to the sauce, or introducing a side dish like potatoes that arches everything together.
Even though it contain eggs, this dish reheats superbly. We always cook far too much so we can reheat the next day and have it in pitta breads (and cover it with cheese, a la meatball marinara!).

I don't think this recipe is finished in the slightest. There is SO MUCH that can be added and substituted, that it really is just a baseline for where to start. Plenty of veg can be chopped up and cooked in the sauce – I'm thinking grated courgette, carrot, even aubergine; the meatballs can contain all nature of spices and herbs – mint and feta both go with lamb (but would they fry ok?), I'm a big fan of sage and onion, and a ton of rosemary and parsley could be great.
Changing up the sauce could work as well – you could add a ton of liquid smoke like the Wandercooks do in their Bolognese here, bacon is always welcome as a starter to the sauce, perhaps even an Indian number could work? A dish is never finished!
Moroccan Lamb Meatballs with Baked Eggs
Total Time
1
hour
20
minutes
Ingredients
1

Tbsp

Olive oil

½

Small onion

finely chopped

3

Cloves

garlic

crushed

1

tsp

Ras-el-hanout spice mix

1

tsp

Smoked paprika

1

Tbsp

Tomato puree

1

Tin chopped tomatoes

500

g

Passata

or another tin of chopped tomatoes

1

Tbsp

Sugar

Salt

250

g

Lamb mince

1/2

Small red onion

finely chopped

1

Tbsp

Fresh coriander

chopped

1

tsp

Ground cumin

1

tsp

Ground coriander

1/2

tsp

Salt

1/2

tsp

Ground black pepper

1/2

Large egg

beaten

30

g

Breadcrumbs

1

Tbsp

Vegetable oil

1

Tbsp

Fresh coriander

chopped

4

Eggs
Instructions
Pre heat the oven to 190/375/gas 5

Heat the olive oil in a saucepan over a medium heat. Fry the onions until soft, approx. 5 minutes.

Add the garlic and cook for a further minute, until the harsh smell has gone

Add the ras-el-hanout and paprika and fry for a further minute

Add the tomato puree and fry for another few minutes, lowering the heat if things start to look very dry

Add the chopped tomatoes, passata (if using), and sugar. Mix well, and bring to a simmer. Taste, and season with salt if necessary. Gently simmer for 5-10 minutes until slightly thicker and richer in flavour. Set aside to cool while preparing the meatballs

Mix together the lamb, 1 Tbsp chopped coriander, red onion, ground cumin, ground coriander, salt, black pepper, beaten egg, and breadcrumbs in a large bowl. Bring together until everything is fully incorporated. If the mixture feels too wet, add more breadcrumbs

Pull off pieces of the meat and roll into meatballs. Try to keep them all a similar size (I made 13 from this amount of mixture)

Heat a large oven-proof frying pan over a high heat, add the vegetable oil and fry the meatballs until very brown on all sides (we're not cooking them through, just browning the outside)

Once the tomato sauce is fully cooled, place it in a blender or food processor and blitz until smooth. Add the last of the chopped fresh coriander, and then pour into the pan with the meatballs. Bring to a simmer

Make 4 deep wells between the meatballs and sauce and crack an egg into each. Add a pinch of salt across the top of the eggs

Bake in the oven until the eggs are set – approx. 20-23 minutes
Recipe Notes
Great reheated the next day and smothered with cheese in pitta breads
Why do we brown the meatballs before cooking them in the sauce? Why browning food is so important.
Why do we heat the spices in the oil? Because they're hydrophobic!
Why do we blend the sauce? This is just a preference thing. If you're happy with chunks of tomato and onion, then don't blend.
What is ras-el-hanout? It's a beautiful Moroccan spice mix, popular in their tagines and other marinades. Either buy it already mixed, or there's a recipe for it over at BBC Good Food. It uses similar spices to what I've put in the meatballs, so I figured I was allowed to call this dish 'Moroccan'!
Why do we use egg and breadcrumbs in the meatball mix? Wouldn't they taste better just being pure meat? These are binding and drying ingredients. Why do we use egg and breadcrumbs to bind food together?
I'm sharing this recipe on a whole load of quality link-ups. Do visit and comment galore!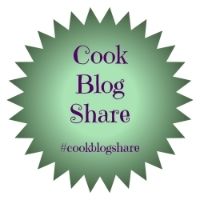 What's Cooking Wednesday @ Buns In My Oven

Throwback Thursday @ Dad What's For Dinner
And Fiesta Friday with  Judi @ cookingwithauntjuju and Cynthia @ eatmunchlove