Chicken katsu empanadas are so moreish both hot and cold, you'll wonder why you've never thought to put a curry in pastry before!
I recently heard that Greggs had started doing a chicken katsu bake, and my immediate reaction was 'ah the wife will love that'. Coz, like, she loves my chicken katsu. But as I deliberated a little longer, it got me thinking about whether this was a genuine improvement, or if it was a case of sticking one thing inside another to be different.
My gut instinct said it was the latter. Even if they were a treat, the addition of pastry was just a gimmick, as katsu is a standout dish on its own – the pastry just makes it easier to carry when on the go (a LOT easier, admittedly). Was being able to nosh a katsu on the go that much of a draw?
I pondered some more! Is there anything wrong with a gimmick? Even if it is short lived, as long as it is delicious, and makes food more interesting, then gimmicky can be great. But it can also be a total shambles (We Want Plates demonstrates when gimmicky turns into stupidity, albeit hilariously).
So back on point – what else can we throw a good katsu curry into for added fun and flare? Do we include the rice? Do we do a saucy curry or get something drier and with more rigidity that was less likely to leak? Served hot is a given, but served cold as well? It all sounds pretty good fun finding out!
I've settled on empanadas as my roll of the dice. The harder pastry will keep better in the fridge, and may even reheat successfully (puff and other types of pastry often go flabby). Plus they're as easy as pie to make (pun intended).
I've not tried the Greggs version on purpose, and I doubt I will either. Much of their wares are hit and miss, and I love my own chicken katsu empanadas too much to ruin my ideas with whatever they've done! Plus why store-buy what you can make yourself excellently anyway?
But it still raises a very good question – what other stuff can we throw into stuff to make it great fun stuff??
Chicken Katsu Empanadas
Total Time
1
hour
30
minutes
Servings
12
empanadas, depending on size
Ingredients
For the pastry:
350

g

Plain flour

Pinch Salt

100

g

Lard or butter

brought up to room temperature

2

Large eggs

beaten separately

1

Tbsp

White vinegar

80

ml

Ice water
For the curry sauce:
2

Tbsps

Ghee or vegetable oil

2

medium Onions

finely diced

3

cloves

Garlic

crushed

2

Tbsp

Curry powder

1

Tbsp

Flour

300

ml

Chicken stock
For the breaded chicken:
1

slices

large Chicken breast

cut into 1/2cm thick

200

g

Plain flour

3

large eggs

well beaten and mixed with a pinch of salt

200

g

Breadcrumbs
Instructions
Pastry:
'Cut' the lard or butter into the flour + salt by squeezing it together in your fingers. Continue doing this until no large lumps remain, and the mixture resembles sand

Add in one of the beaten eggs, white vinegar, and ice water and mix until everything is brought together

Knead for a few minutes until smooth, cover with clingfilm and refrigerate for an hour
Curry sauce:
Heat 1 tablespoon of the ghee or oil in a large saucepan over a medium heat, then fry the onions and ginger until very soft, but not browned (approx. 5-8 minutes)

Add the garlic and fry for a further 30 seconds - 1 minute until the brash, raw smell of garlic subsides

Stir the curry powder into the pan with the onions and garlic. Cook for 1 minute.

Add another 1/2 tablespoon of ghee, then stir in the flour. Cook for a further 2-3 minutes

Very slowly add the chicken stock, tiny bit by tiny bit, until it is incorporated fully each time. This prevents lumps forming

Simmer the sauce until it is a little thicker than you would usually like for your curry sauce. Allow to cool completely

Blend or food process the sauce until it is smooth. Set aside until ready to use
Breaded chicken:
Place the sliced chicken one by one into the flour to fully coat

Dust off any excess flour, then place into the egg until fully coated

Finish by coating with the breadcrumbs, ensuring no gaps are left. Continue for all the chicken slices

Heat the oil in a deep fat fryer to 190C, then fry the chicken in small batches until crisp and golden, and cooked right through (approx. 3-4 minutes unless particularly thick)

Keep to one side to cool completely, then slice up into very small 1/2cm - 1cm pieces
Empanadas:
Heat the oven to 200/400/gas 6

Roll out the pastry on a floured surface until roughly 1-2mm thick (not too thin)

Use a bowl to cut large circles into the pastry - the size of the circle depends on how big you want the empanadas

Place some chopped breaded chicken in the middle, add a few teaspoons of curry sauce, then brush the edges with the second beaten egg

Fold over the top of the pastry to complete the empanadas, and squeeze round the edges to seal. Continue until the rest of the pastry is used up

Brush some more beaten egg over the top of the empanadas, then bake for 25 minutes or until the pastry is well browned and crisp
Recipe Notes
Use the left over curry sauce for dipping!
Empanada dough recipe adapted from Epicurious.
Why do we do the breadcrumbing in this order? How does breadcrumbing work?
Why does the pastry have vinegar in? I believe that the acid within the vinegar prevents the pastry from forming too many gluten bonds, which results in a flaky pastry that is much more tender.  We don't taste the vinegar as we're only using a small amount, plus the cooking process gets rid of the acidity.
I'd be very interested in substituting the vinegar for different acids like lemon juice or citric acid powder. I'd also like to see how much more tender the pastry is compared to one cooked without any added acid.
Why do we refrigerate the pastry? This is to keep the fat cold – the hotter it gets, the more difficult it is to handle as everything gets very soft. It also helps the pastry keep its shape when it cooks.
Link up time!!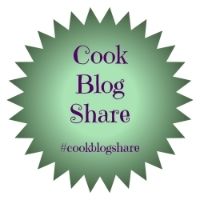 with Snap Happy Bakes 

Marathons and Motivation & Ilkas Blog
Fiesta Friday – with Too Zesty! and Hostess at Heart